Dogs On Bikes
COLLARS, LEADS AND SIGHTHOUND FLEECE COATS
Handmade martingale, walking, tag and buckle collars, sighthound fleece and rain coats.
About Dogs On Bikes
Dogs on Bikes developed from a variety of avenues; our love of hounds, madness for cycling, enjoyment of crafting and a bit of a passion for photography. All of this combined with an over-riding desire for a safe, affordable and yet more than functional looking collar for the hounds led us down the road to where we are now.
So after trying and looking at several suitable, and some less than suitable collars, we decided to use our skills to develop what we wanted for our own hounds. Like most things this soon snowballed into complements and requests.
Now we have a full hound range of collars, leads, coats and treats from the martingale, walking, tag and buckle collars to fleece and rain coats to extra special occasion treats, special orders and a wide range of coloured webbing leads that would make a rainbow weep!
We make collars for all dogs be they little, large and everything in between but as you may see we do have a bit of a soft spot for greyhounds. Not that we haven't had other houndies but as the phrase goes 'they get under your skin'!
That's why we have a vast array of martingale collars as we have always had willing volunteers with our own and friends dogs to try them out. It is such an extremely versatile design of collar that it is suitable for all breeds and mixes of hounds. The martingale was primarily designed for Sighthounds who have smaller heads than necks and therefore can easily 'slip' their collar but it has shown itself to be a really good design for all dogs. It is safe, comfortable and gentle on their necks.
It is a wonderful design comprising of a larger loop section and a smaller control loop which, when fitted correctly, will gently tighten on walking or if, like our little girl, you have a hound that is excellent at sudden reverse manoeuvres! It's a design of collar that has been around for many a year with lots of variations to said basic design; large collar loop section and smaller control loop section. The collars made by Dogs on Bikes are our own interpretation of said classic design.
---
Our products
We make the following items:
Dogs on Bikes support rescues and organisations by giving collar donations for their fund raising efforts.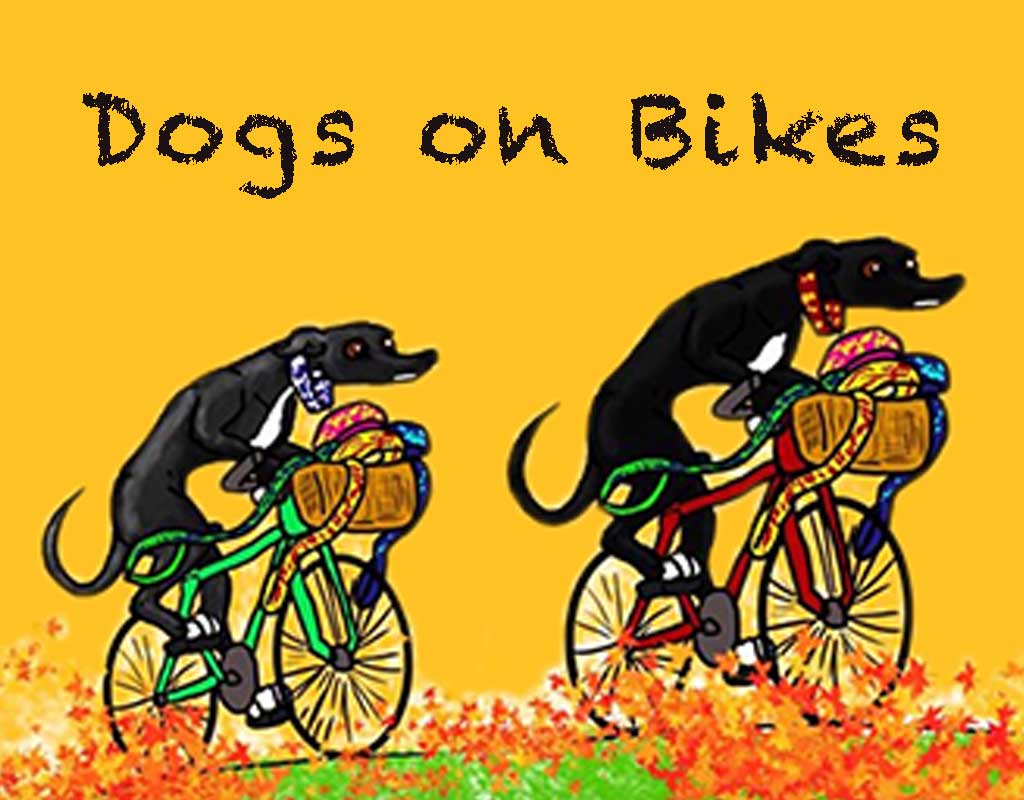 Order online
Payments are securely processed by PayPal. Your credit or debit card details are never passed on.
VISIT OUR WEBSITE
Order collars, fleeces and leads
---
Like us on Facebook
Follow us on Facebook and keep informed on our latest news and special offers.
OUR FACEBOOK PAGE
Like us for our latest news & offers
---
Follow us on Twitter
Follow us on Twitter and keep informed on our latest news and special offers.
FOLLOW US ON TWITTER
Follow us for our latest news & offers
---
Follow us on Instagram
Follow us on Instagram and see all the latest images from Treats2Sit4 HQ
LIKE US ON INSTAGRAM
Follow us for our latest images
A SMALL SELECTION OF OUR PRODUCTS
Lovely collars, lovely people. I'd highly recommend Dogs on Bikes to other dog owners and I'll use them time and time again.
Update…. just received a fleece coat from dogs on bikes and it's gorgeous! Will definitely be buying more of these!


★ ★ ★ ★ ★

Absolutely love Smudge's new coat. It's a lovely cut and fit and extremely well made. Top notch customer service as well.


★ ★ ★ ★ ★

I can highly recommend Dogs on Bikes – Beautiful Collars, Speedy service, Well packaged, Friendly service and a surprise doggy treat! Very pleased Thank you.


★ ★ ★ ★ ★

Love Dogs on Bikes. I always get Spud's collars from here and the fleece coats are also fabulous. Highly recommended!


★ ★ ★ ★ ★

Really impressed with the quality of both the collar and the service I have received! Dogs on Bikes provided pictures of materials available as we wanted a green collar. Price was really reasonable and speed that the collar was made and delivered excellent! Murray, our Borzoi, looks fab in his new martingale and we can't wait to show it off! I would highly recommend to anyone looking for a new collar for their hound. When Murray next needs a new collar I will certainly be using Dogs on Bikes again. Thank you so much!


★ ★ ★ ★ ★